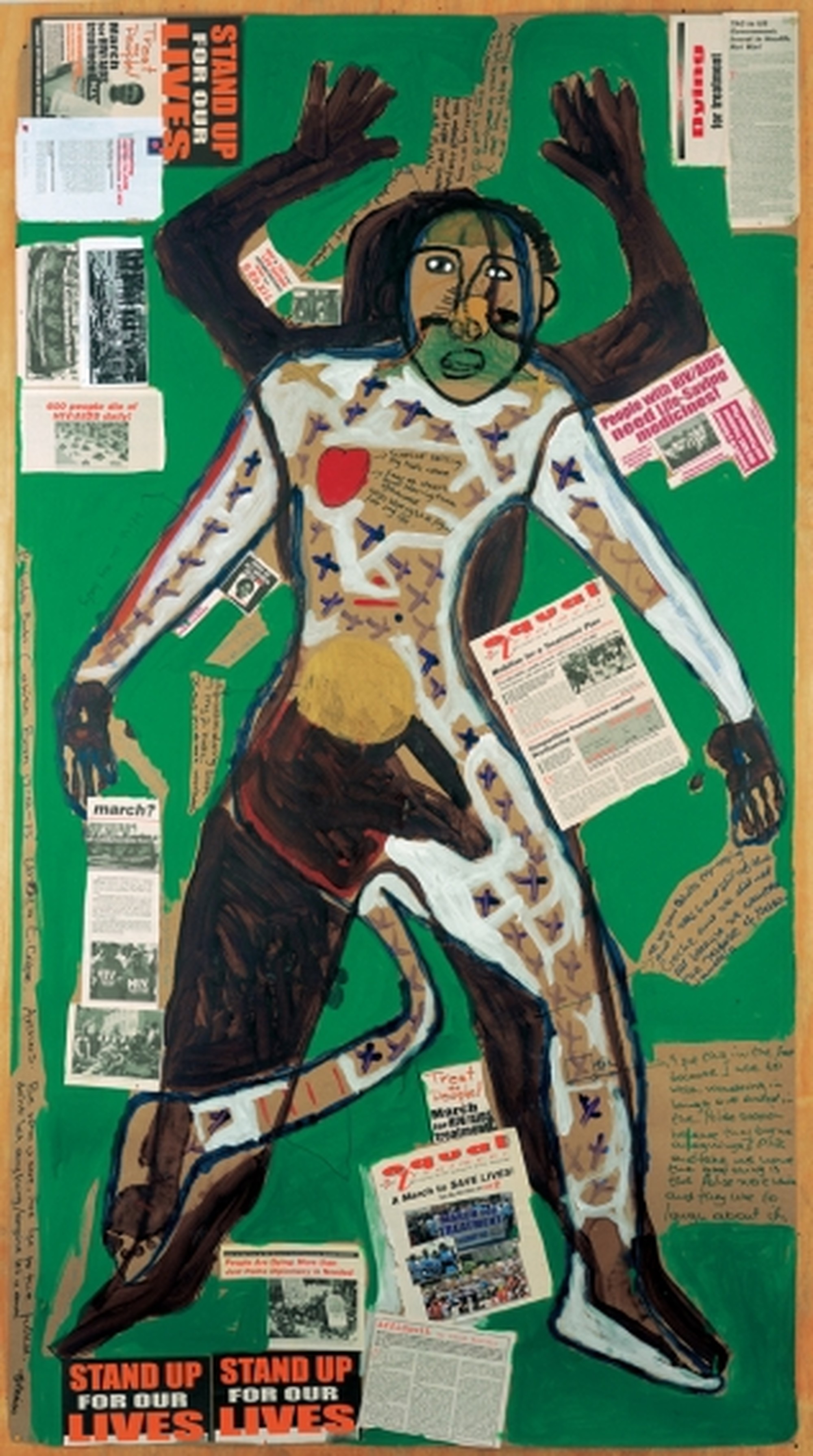 Babalwa Cekiso – Body Maps, 2009
Babalwa Cekiso
Body Maps (2009)
Digital print on paper
CCAC #0370

I am Babalwa Cekiso. I live and work as a TAC volunteer in Khayeltisha. One day I saw this white guy hanging photos and huge body maps on the walls of the Mew Way Recreation Hall. I looked at these photos –of my doctor, Themba, of the streets of Khayelitsha, and of people taking their medicines and I looked at the body maps. I went up to the guy and said, "I really like this work, but who are these people in the photos? Why are they hiding their faces? They're so lucky to get ARV treatment when most of the country and Africa hasn't got it. They can't hide their faces, it's like taking the money and running. I'm HIVpositive, and I believe we mustn't hide if we are one of the lucky ones to get treatment."

After that I joined the Memory Box project as coordinator of the A team women who tell their stories in this book. A team members work for themselves in an HIV cooperative. They don't only sell beaded AIDS ribbons like most HIV support groups, they sell their expert knowledge – what they know from the inside about HIV and AIDS. They also organise focus groups for researchers, conduct questionnaires and do translations. But the main thing they do is run Memory Book and Memory Box support groups. Now, after Long Life, they teach people how to do body maps to understand their own bodies and treatment.

When I look at this body map I feel like my life is not finished. I feel good actually, explaining how I feel inside, certain feelings and memories that I don't normally talk about. You can read my story in the book.

TAC is getting everybody to do what they should be doing, fighting for their lives and what they believe is right for them. When I look at my body map it reflects the life of activism. That is why one foot is up in the painting. It shows the strength that I have everyday to fight for my life and others.