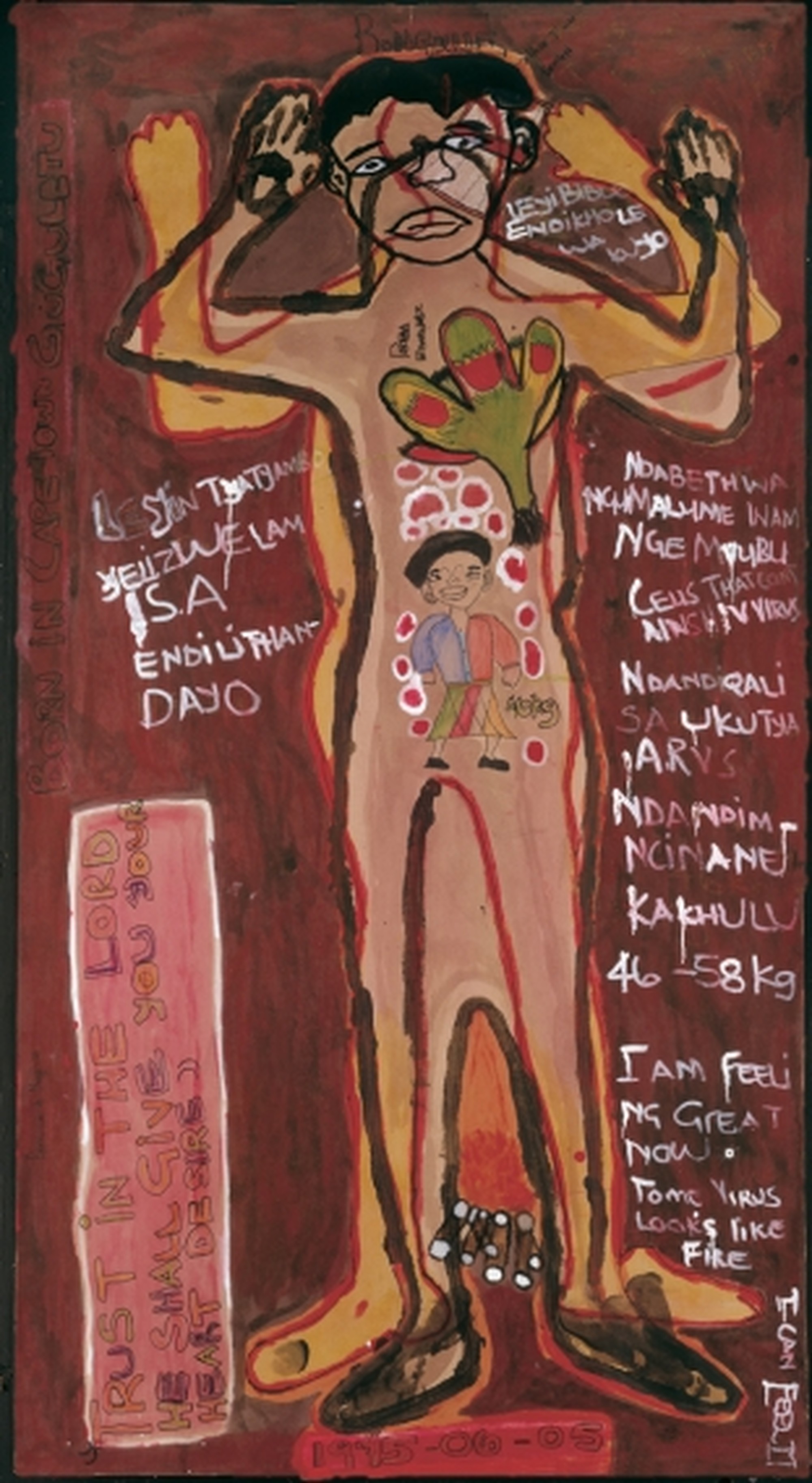 Bongiwe – Body Maps, 2009
Bongiwe
Body Maps (2009)
digital print on paper
CCAC #0381

I feel very proud of this picture. I'm proud because it's going to be in the book and people are going to see th at people with HIV are active and they are alive. This here on the left side of my face is my bible. It's in my mind. My symbol in my chest is a Protea flower. It's a flower that represents South Africa. And the scar under my hair on my head. I was coming from a friend's 21 st birthday party and then I saw this car. I think there were about five, no, six because there was a lady, and I was forced in the car. They take me to the bushes, on the N2 road, there's that concrete fence.

The whole process took place there and I was raped. One guy said we must kill this girl because she's going to tell a lot about us to the police. But they just left me there. The other one hit me with a beer bottle here on my head and blood started coming out.

My mother started to get sick in the year 2001 in early January. And she passed away on August. My mother didn't tell me that she was HIV positive, I found out myself.
This small person inside my stomach it's me. It is me when I started using ARVs. I was small and so tiny. I was weighing 46 kilograms. It was March this year. Then I started using ARVs and I gained a lot of weight. I have improved a lot. I am weighing 58 kilograms now. So this big body around the small body is me now.

Now I'm feeling great. I'm feeling strong, I'm feeling happy. I am alright now. At the clinic they told me I can take ARVs for five years. In that five years I think, if I could get some money I would go to further up my studies, buy my own house. I don't plan on getting children, since I am HIV. I just want to live with my brother. That is all I need. I live by myself now, just me and my cats.