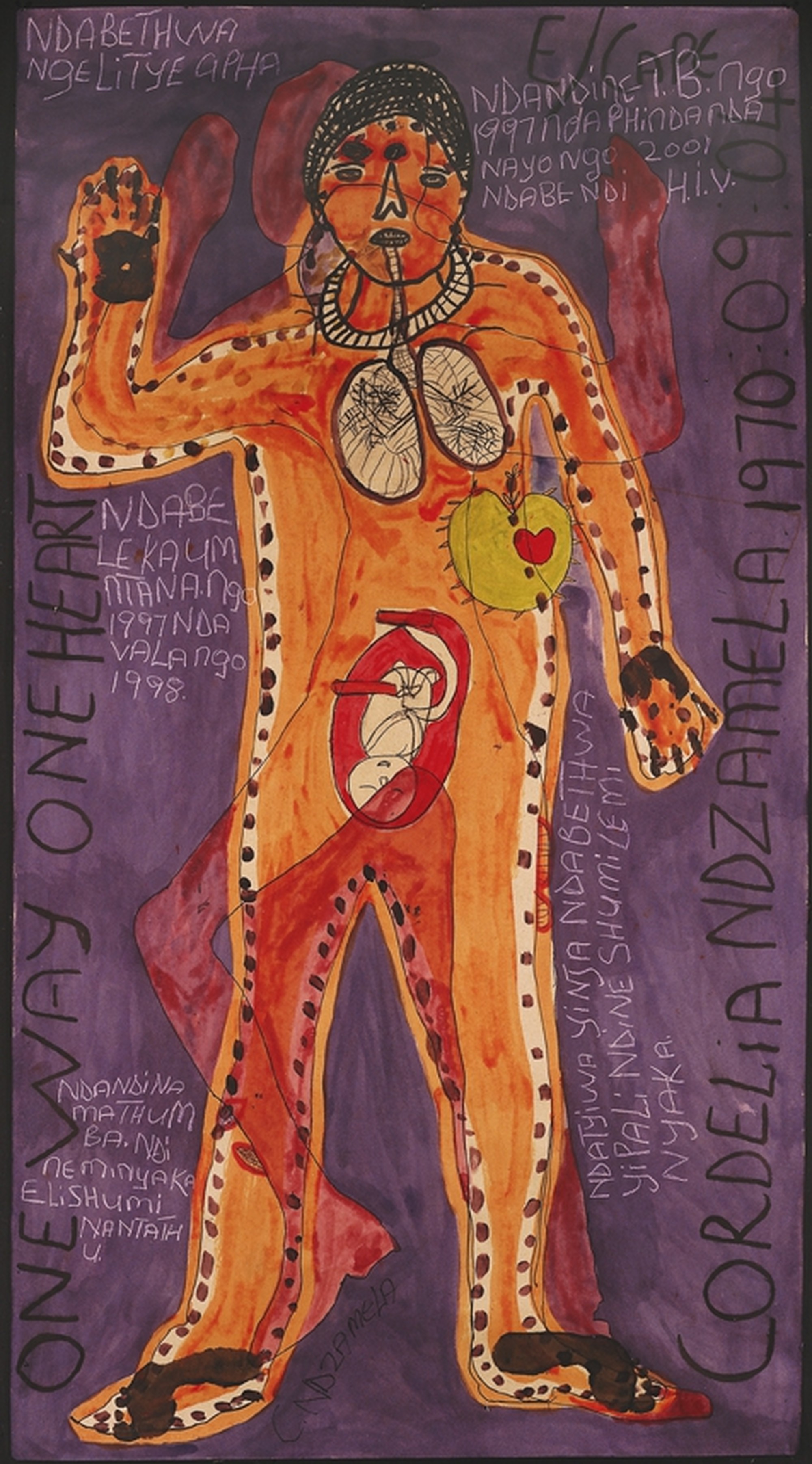 Cordelia Ndzamela – Body Maps, 2009
Cordelia Ndzamela
Body Maps 12 (2009)
Digital print on paper
CCAC #0378
I shaded my body in three separate sections each a different colour. A man tried to rape me. I still have a stone in the middle of my head and another in the side of my forehead. I coloured the top section of my body in a light colour indicating that I was very young at that time – I didn't have a boyfriend yet.

The bottom section of my body shows the dog bite on my legs. This section is once I was HIV positive and has the scars of two 'ithumba' – big pimples, like boils with yellow gel inside.

After my last baby in 1987 I decided to be sterilized. It was painful but not too much. In 1998 I was sterilize and I was old at that time. When I was sick last year, every place in my body was sore. The dotted line represents the pain all over my body from when I was sick. I had T.B. I was coughing. I was losing weight a lot a lot a lot. Last year on March I got sick. I sleep in hospital. But they don't know what's the cause of it. They didn't see HIV in my blood. At Jooste Hospital I said to them they must test me for HIV. They already tested me. I was HIV positive. I just want to know what's wrong with me. I stay for a week then my sister come to fetch em. They gave us books to tell us about HIV. When my sister asked what is wrong I just gave her the book. I've got this thing in this book. My sister start crying and I also started crying myself. And the doctor ask my sister if she accept this HIV. She said yes. When I come home I collapsed again and my sister phoned the ambulance and they took me to hospital. On my folder they write a big name 'AIDS' with a koki pen at the hospital. When I was there at Karl Brenner hospital I accepted I had AIDS, not HIV. They drained some water from my spinal column. Because I couldn't walk they were pushing me with the wheelchair. I stayed for a week then they bring me home with an ambulance. My mind was not right. They gave me fluconazole for meningitis. I want to tell my boyfriend but I haven't yet.

I love my heart most. My slogan says: One Way One Heart. It means togetherness. The people who is negative or positive, but the people is one. Orange represents how I feel now because I feel well. That orange colour, when the sun comes up in the morning, I like that colour and I am like that colour. I feel great now. I am proud of that.