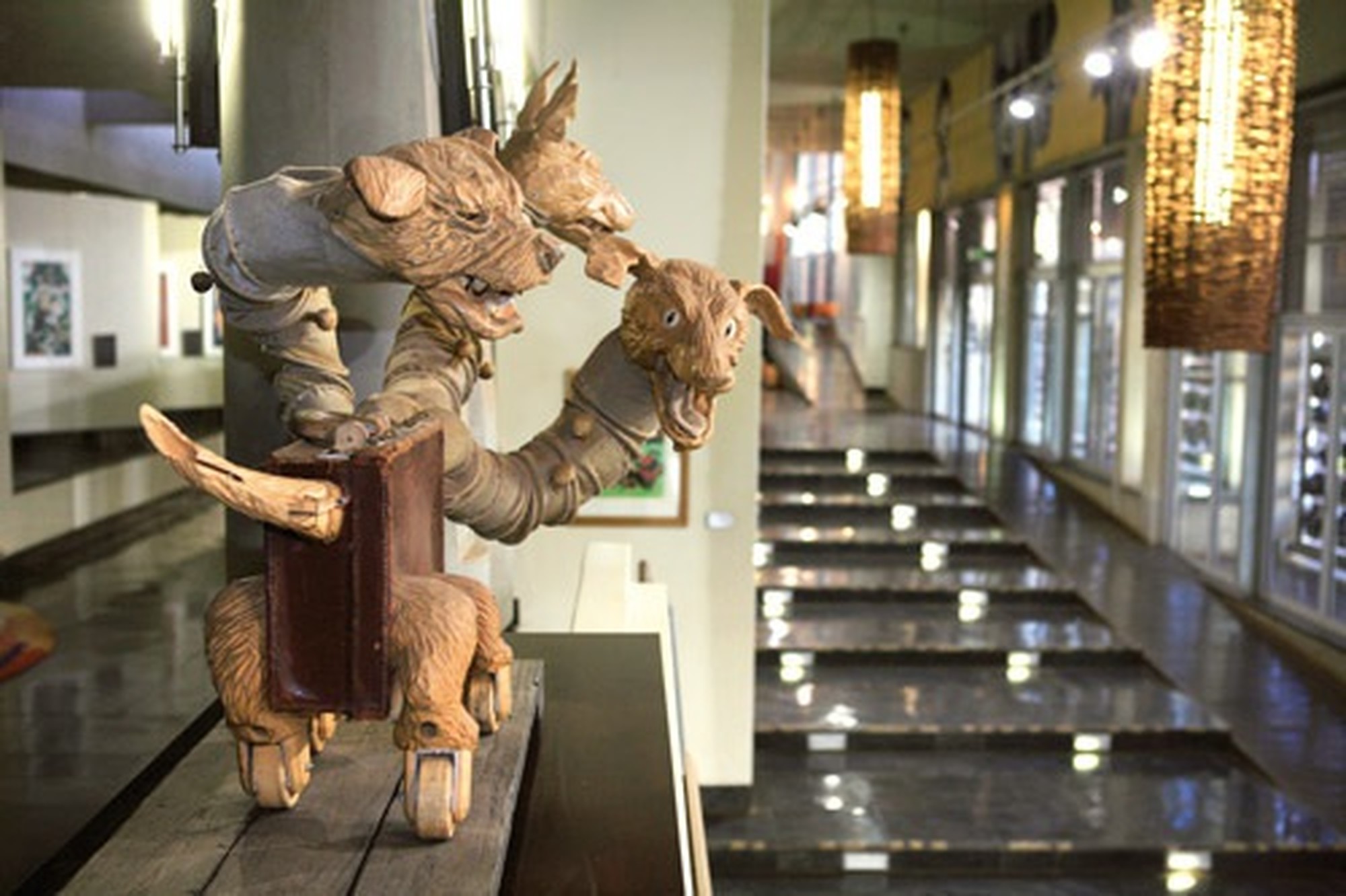 Handspring Puppet Company – Dogs of War, 1997
Handspring Puppet Company (1981-)
Dogs of War (1997)
Mixed media / 1600 x 1180 x 800mm
CCAC #0110

Donated by Adrian Kohler and Basil Jones of the Handspring Puppet Company

Dogs of War is a three-headed dog puppet with stretchy necks attached to a suitcase body with four stumpy legs on wooden wheels and a wagging tail, operated by a lever under the suitcase handle. It was designed and made by Adrian Kohler of the Handspring Puppet Company using Obeche wood, stretch fabric and a leather suitcase.

This puppet performed in the stage production UBU AND THE TRUTH COMMISSION. Written by Jane Taylor, directed and with back projected animation by William Kentridge, with music by Warrick Sony and Brendan Jury, choreography by Robin Orlin, puppets, sets and costumes by Adrian Kohler and produced by Handspring Puppet Company for the Weimar Festival of 1997.

The cast of the play featured Dawid Minnaar as Pa Ubu, the owner of the dog, Busi Zokufa as Ma Ubu, who was jealous of the dog and Louis Seboko, Basil Jones and Adrian Kohler who were the bark and bite of the dog. Each manipulator operated a head through the slit in the stretchy neck fabric behind the head. The wooden knobs that can be seen further down the necks were used to simulate panting and to give shape to the movement of the necks.

After transferring to the Grahamstown Festival, the production moved to the Market Theatre in Johannesburg, played at the Spier Festival in the Cape and toured extensively abroad in Europe and the USA where it opened the Henson Puppet Festival in New York City. The final performance was at the Tricycle Theatre in London in 1999 as part of the London International Festival of Theatre.

The suitcase to which the necks are attached has a faint S.K. in black on the lid. It was given to young defence lawyer, Sydney Kentridge, William Kentridge's father, by Bram Fischer at the time of the Rivonia Treason Trial.
FURTHER READING
Taylor, J. (2009). Handspring Puppet Company. [PDF] Johannesburg: David Krut Publishing. Available at: http://www.handspringpuppet.co.za/wp-content/uploads/2016/07/Handspring-12_14Oct_LR.pdf [accessed 4 August 2020]