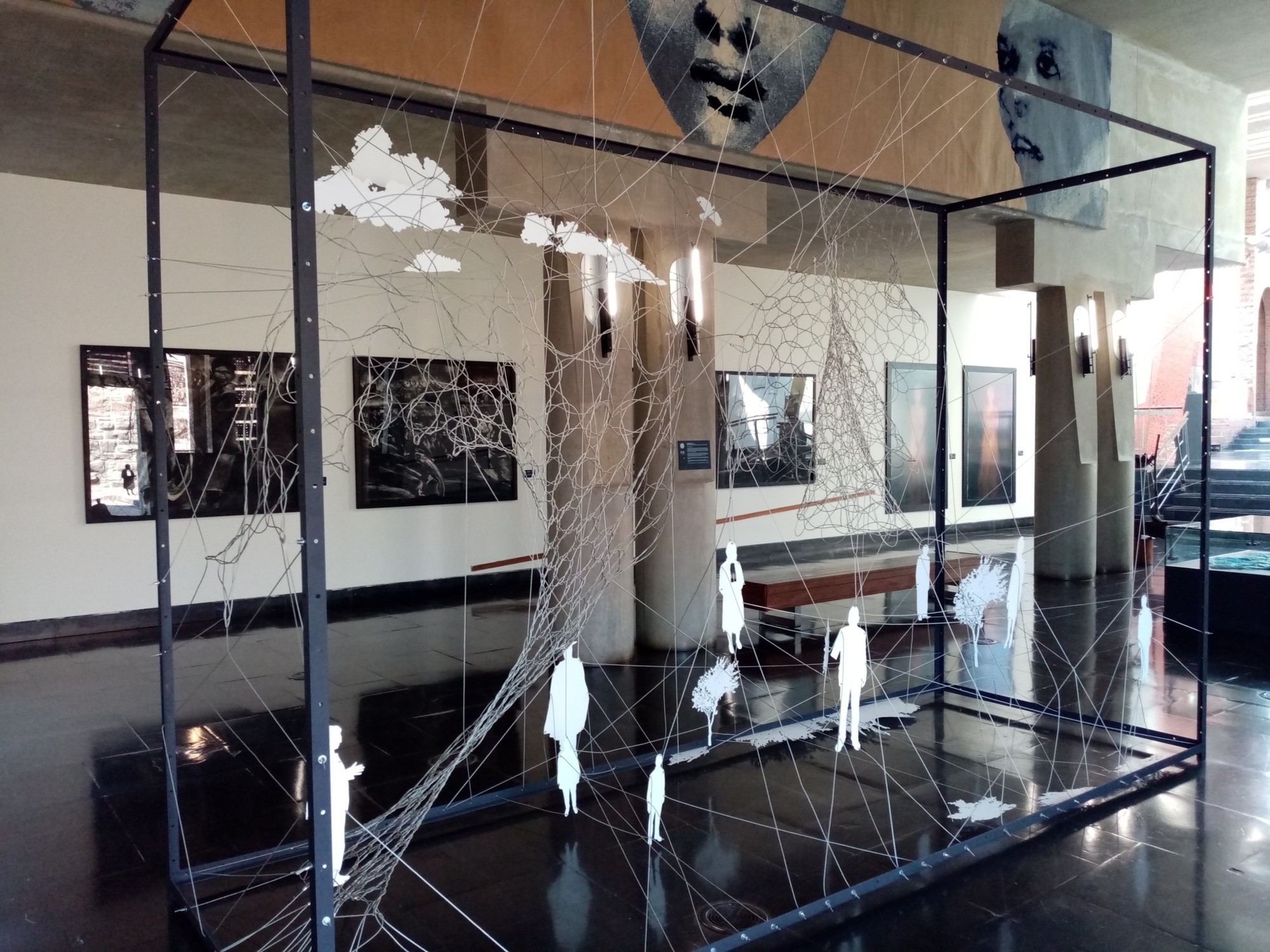 Kim Lieberman - Landscape of the Court, 2016/2020
Kim Lieberman (1969-)
Landscape of the Court (2016/2020)
Cable lace, powder-coated stainless steel, mild steel and ferrules
4000 x 2800 x 1500 mm
CCAC #0570
On loan from the artist
Landscape of the Court contains conceptual symbolism of how the Constitutional Court was established. It portrays some of the judges who were part of the struggle against apartheid and were able to convert their activist ideology into a structural format that resulted in a constitution steeped in fairness for all the people of South Africa. The work includes historic and current figures such as Justices Pius Langa, Arthur Chaskalson, Kate O'Regan, Albie Sachs, Yvonne Mokgoro, Edwin Cameron and Ismail Mahomed. The artwork also includes some lesser-known, younger people who have a relationship with the Constitutional Court by having worked on the Constitution Hill site: Mpumi Tshabalala and Anthony Stein.

The work also depicts aspects of a landscape in a more traditional artistic manner. Birds, clouds and trees, all photographed from the vantage point of the Constitutional Court, are integrated into the piece. These symbols speak to the idea of justice under a tree, on which the architecture of the Constitutional Court was modelled - it being an African conception of settling disputes in the spirit of Ubuntu. The lace used is a way of portraying the interconnectedness of humanity and those that work in the Constitutional Court.

The style of using interconnected threads is a continuation from that which is found in the artist's previous artworks, including Constellations (2008) and Connected (2008) – both previously donated to the Constitutional Court Art Collection by the artist.

Landscape of the Court was installed on site in the public gallery of the Constitutional Court between June and July 2020 by Kim Lieberman and her team. The installation process was recorded and an interview with the artist was conducted by the CCAC team.
Photographs by Charles Mamorobela © CCAC