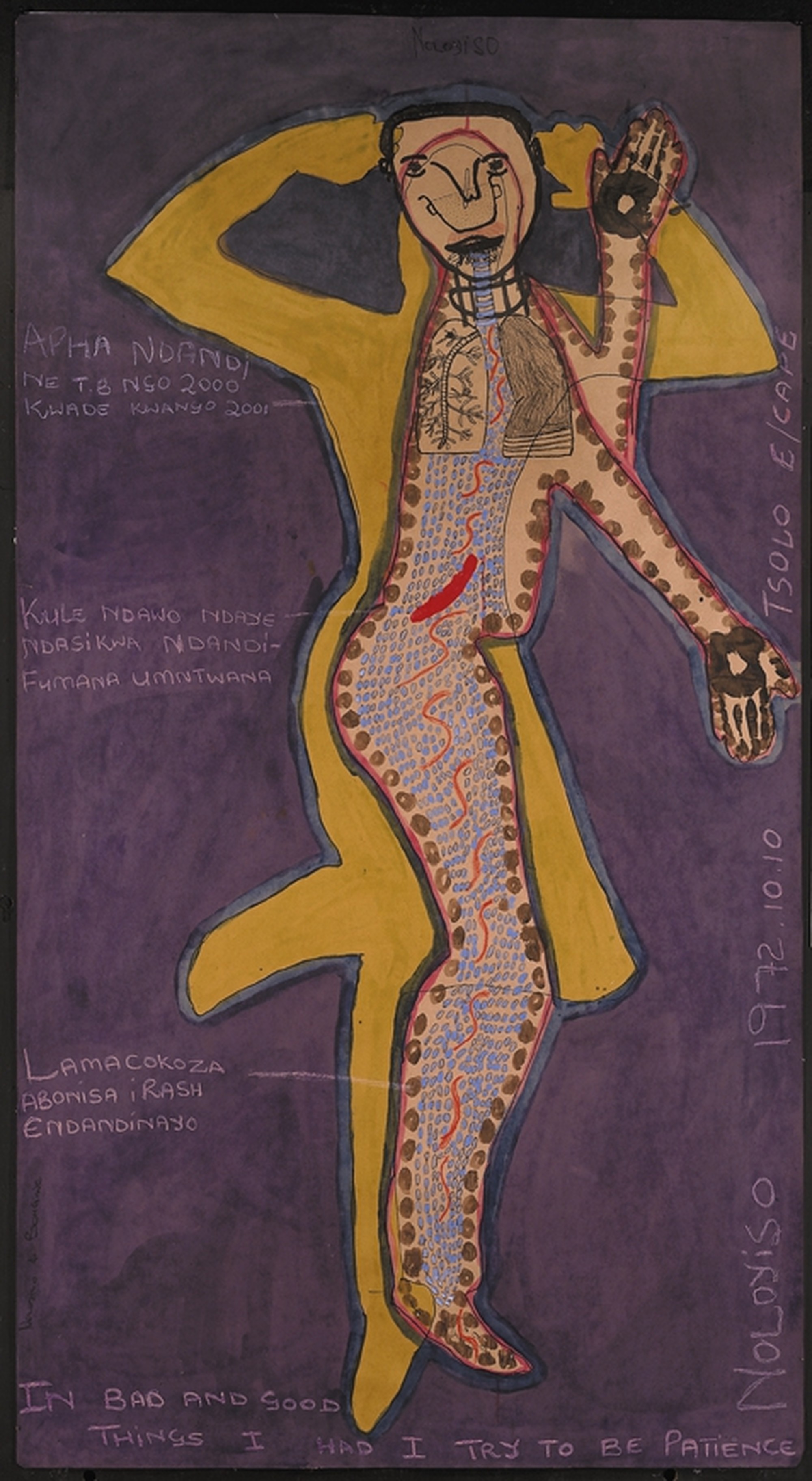 Noloyiso Balintulo – Body Maps, 2009
Noloyiso Balintulo
Body Maps (2002)
Digital print on paper
CCAC #0372
I grew up in Tsolo. There is no treatment there. There were three children when I grew up but my mother told me there were ten. Seven died. In those days it was not AIDS that was killing people and children, just other diseases.

I met my boyfriend Babs in the street. He was a good looking guy and his height was longer and his body was thin like me. He asked me to be his girlfriend and I agreed because I did like him.

That year in standard nine, in 1989, I fell pregnant and I had to leave school to have the baby. This was the same year when my boyfriend died. He also never knew about the baby. I did not notice that I was pregnant before he died. I do have boyfriends on and off but it is him I miss.

I show lungs on my painting because it's when I was tested for TB. In my painting the black one is full of water but one is clear from treatment. My story is similar to the other women in this book. Get pregnant young, don't finish school, find out we are positive, lucky to find work, like that.

These big dots on my painting represent the rash that I had. These small dots, the blue ones and these red lines, represent how is HIV in me. HIV, it's like one word but lots of sickness. I represent HIV like a storm. If a storm comes there is heavy rain, thunder, storms, lightning and wind. I represent HIV like that. I did have rash, thrush, falling of hair, coughing and headaches.

About the pot symbol on my painting. I like to cook. In that pot is the food, the veg, the green, me and healthy food. I want to dish for everyone who want food. And fire represents me. The way I like people and I have that warmth in my body. My symbol of power I put in my head because the first thing I must do is think, before I do anything.