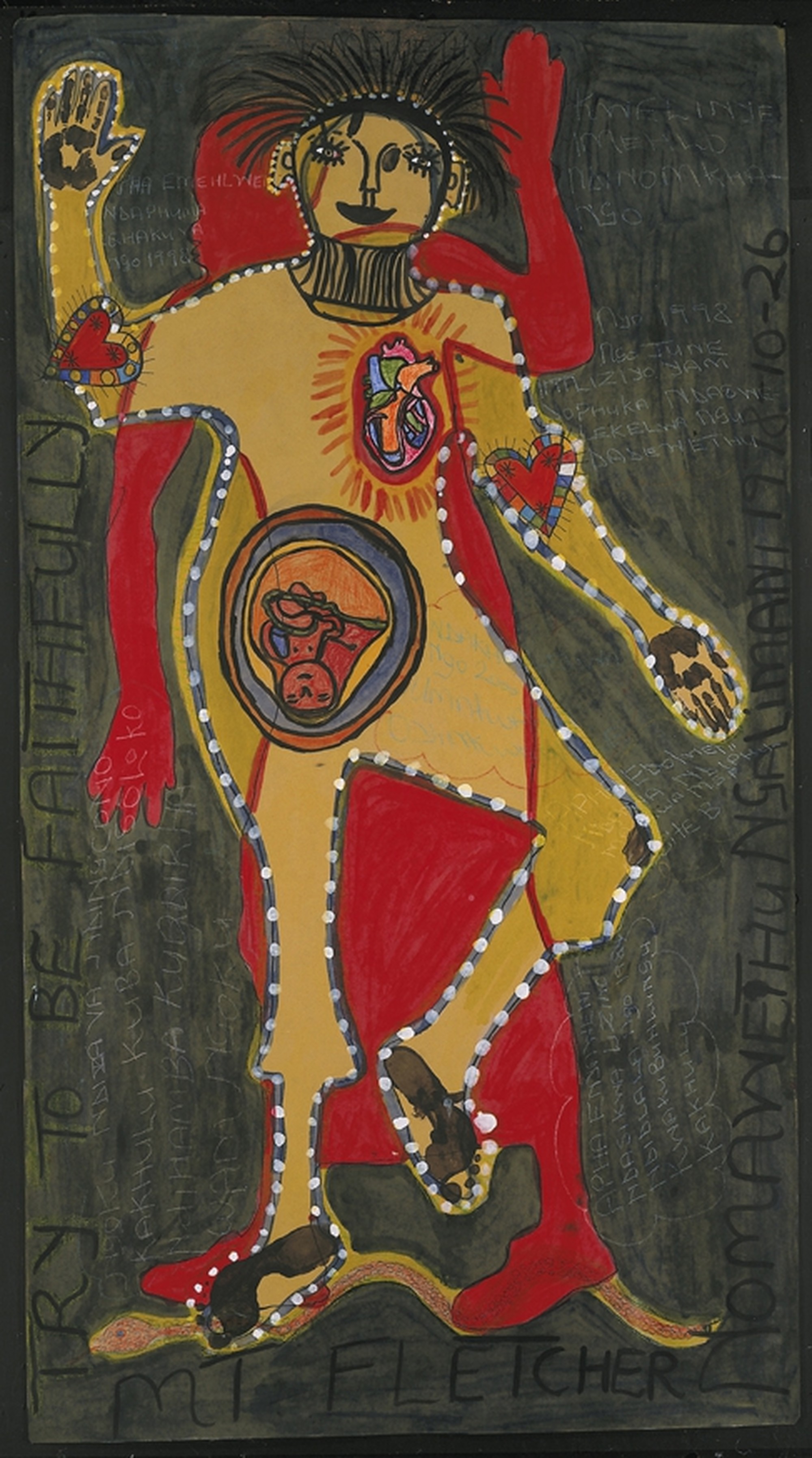 Nomawethu Ngalimani – Body Maps, 2009
Nomawethu Ngalimani
Body Maps (2009)
digital print on paper
CCAC #0367
In my left eye I have a birth mark and I just like it. It is part of me.

That scar on my head. I was 17 and I was walking in the H section. There was R350 hidden in my bra. On the way I met three guys and they told me I must give them 50 cents. The first one he started to klap me in the face with his hand, the second one he draw a knife and he stab on top of my eye. I told myself I'm not going to give the money. It's better if I die than just give it. In my bra I also keep a knife and I took it and stabbed . All three robbers ran away but the community found the one I stabbed. It was easy to find him. They just followed his blood and they beat him very terrible.

You see there are red flames there by my heart. It was 1998 in June when I found out that my sister had killed herself. She drank some paraffin spirits and threw a match and caught alight. Then she died in Jooste hospital. Her mouth was gone and her breasts. She did try talk to me and say you must look after my child. Then she died. It was because her husband was with another woman. He died last year of this HIV illness.

On my painting I have written, "I want to have a cure for HIV" and "Try to be faithfully" of course "HIV is a killer".

I'm standing with my hands up and my feet on the snake. In my opinion the virus look like a snake. You can't see it and it's moving in the secret ways and dark ways. Inkanyamba, a big snake that lives in the water, a destroyer like a hurricane that destroys everything on the earth and makes houses and trees fall down and kills people. But you see I am standing on the snake. With ARVs I destroy this virus too.