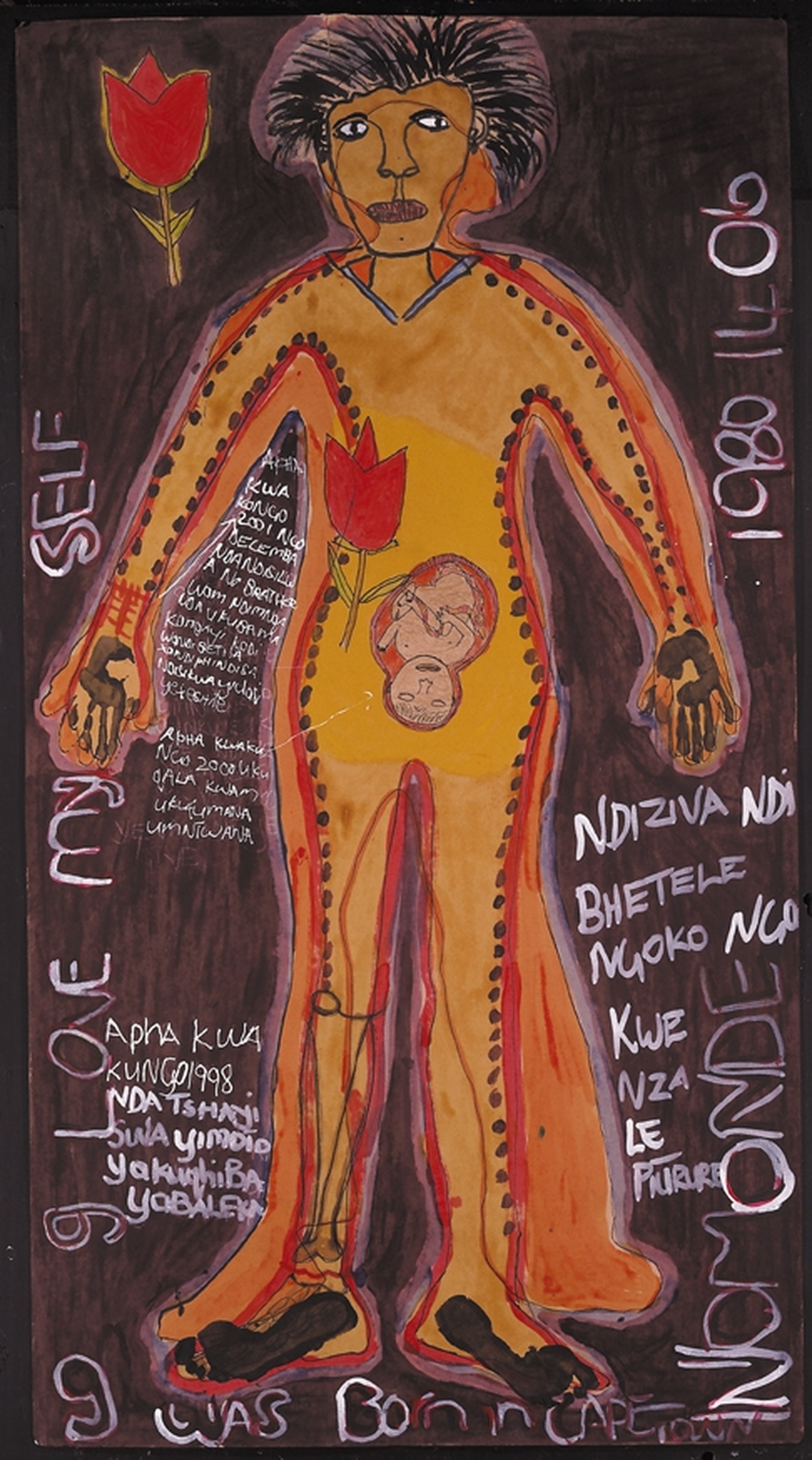 Nomonde Kundayi – Body Maps, 2009
Nomonde Kundayi
Body Maps (2009)
Digital print on paper
CCAC #0379
I was born in Constantia in 1980. It was a six-roomed house with a big garden in which my father worked as the garden boy. They had two big Mercedes in the garage. Mymother was working as a domestic worker. We lived in a small servant's quarter with a tin roof behind the big house, which had a thatch roof.

Mr and Mrs Mattee had a boy my age called Graeme who had lots of toys but he used to like to play with my poppies, my few dolls. His mother told my mother she must send me away or my mother must also go. My mother had worked there for twenty years. She decided to leave, and we came to live in the tents in Khayelitsha. I was surprised to see so many black children and my hair was long and the black children used to come and touch it. There was also so much noise and no trees. My mother stopped to work after that also. She never got another job and my father he was drinking.

I'm coming now to this one, the baby in my womb. When I heard I was HIV I expect to die soon, and I think, where I can give my child who will be negative because of AZT? Maybe to an orphanage, maybe to my sister. I think I can live maybe five more years.
When my baby was born I went home and my mother asked why I'm not breastfeeding. I said to her I've got the sore breasts. Then my mother forced me to breastfeed. I cried and cried when he drank my milk because I think I'm passing the virus.
These small spots is HIV. HIV is running in my blood. But if you see my outside you do not believe I'm HIV positive. Even in this book group, you can never say Nondumiso and others are HIV. They are beautiful and strong. My friend Noxolo is well. She was very sick, but now she is fat.

If you are dead, you are dead and your body is rotting under the ground. There is nothing that you can do when you are dead. There is no life after death and you don't see anything if you're dead. I don't want to die because my baby is very young.