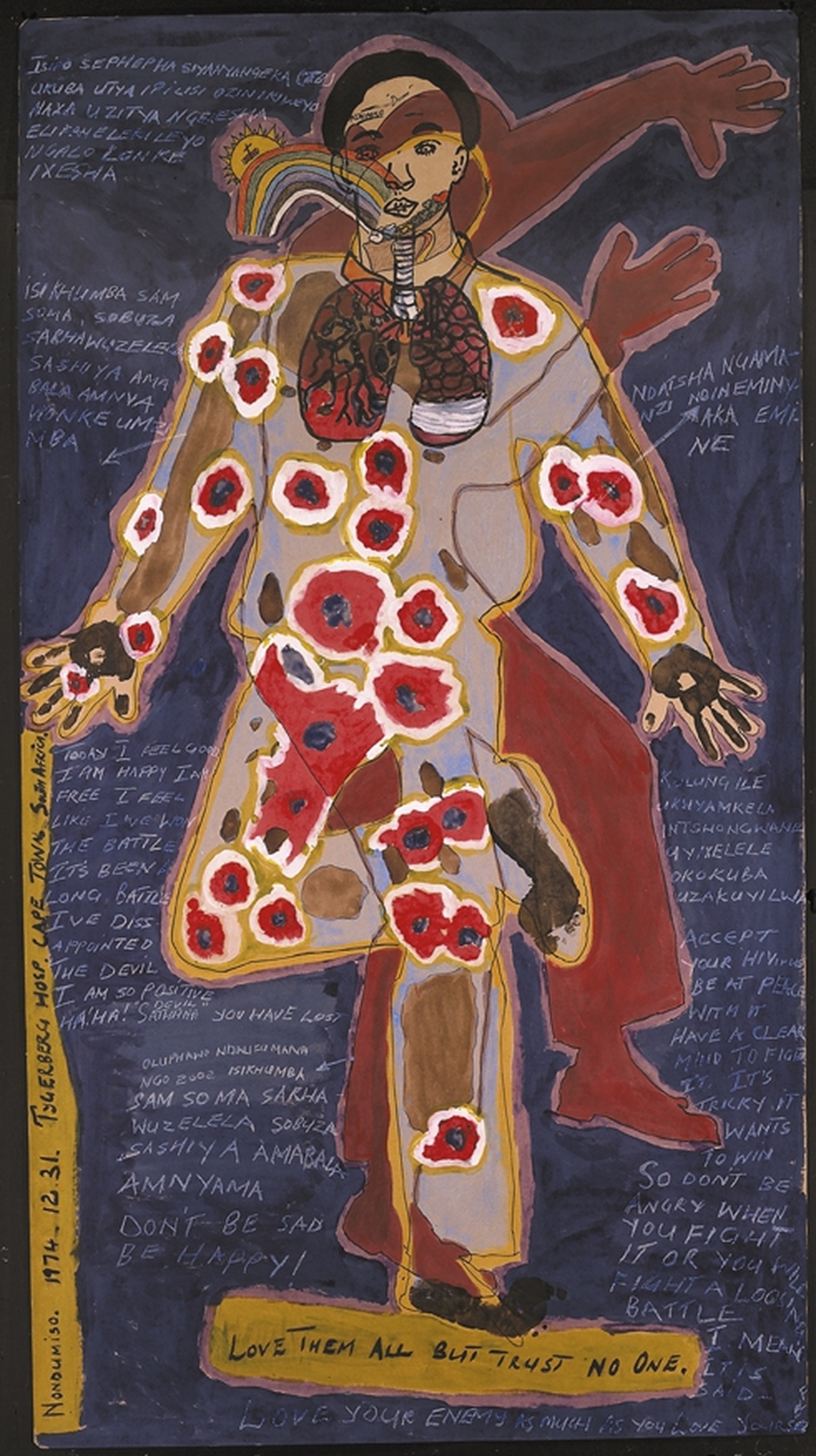 Nondumiso Hlwele – Body Maps, 2009
Nondumiso Hlwele
Body Maps (2009)
Digital ink on paper
CCAC #0376
If you hear the president saying something you think it's the truth. But here in South Africa the president is not always telling the truth. Jussis, it's bad.
After I started going to MSF, doctors without borders, I told both my parents I am HIV positive. My mother said, "Why do all my children have to be like that?" A witchdoctor in Transkei had told her that all her children were going to be sick, but he never told her which disease they were going to have.

My brother told me about MSF when I got very sick , sick, sick. I had things – the brown marks on my painting - like ringworms in my skin – it looked like a brown map. My skin was very light before but it slowly started to get a grey colour, then it went darker and darker . It started to itch when I was eating the TB tablets, then my skin started to peel like a snake. I felt like going underground. People were going to ask me, "What is wrong with you? Why are you so dark?" So I just stayed inside the house and caught an early taxi to the clinic and came back again. I thought to myself there's no future, I'm going to die. I have done nothing. No children. My family is still poor.

The only things I want to get rid of are these marks. I don't know where can I go to just be me. The ARVs have helped a lot but this skin is taking time to get better. By the second month I was well. It's amazing. When I had flu it would stay a long time, but now when I get flu, it goes away quickly.

On my picture I drew the virus – it's the small blue dot . The red circles are the ARVs eating the virus and the virus is going down. The white is my blood. The ARV's are strong. Look what I have written under my left hand.