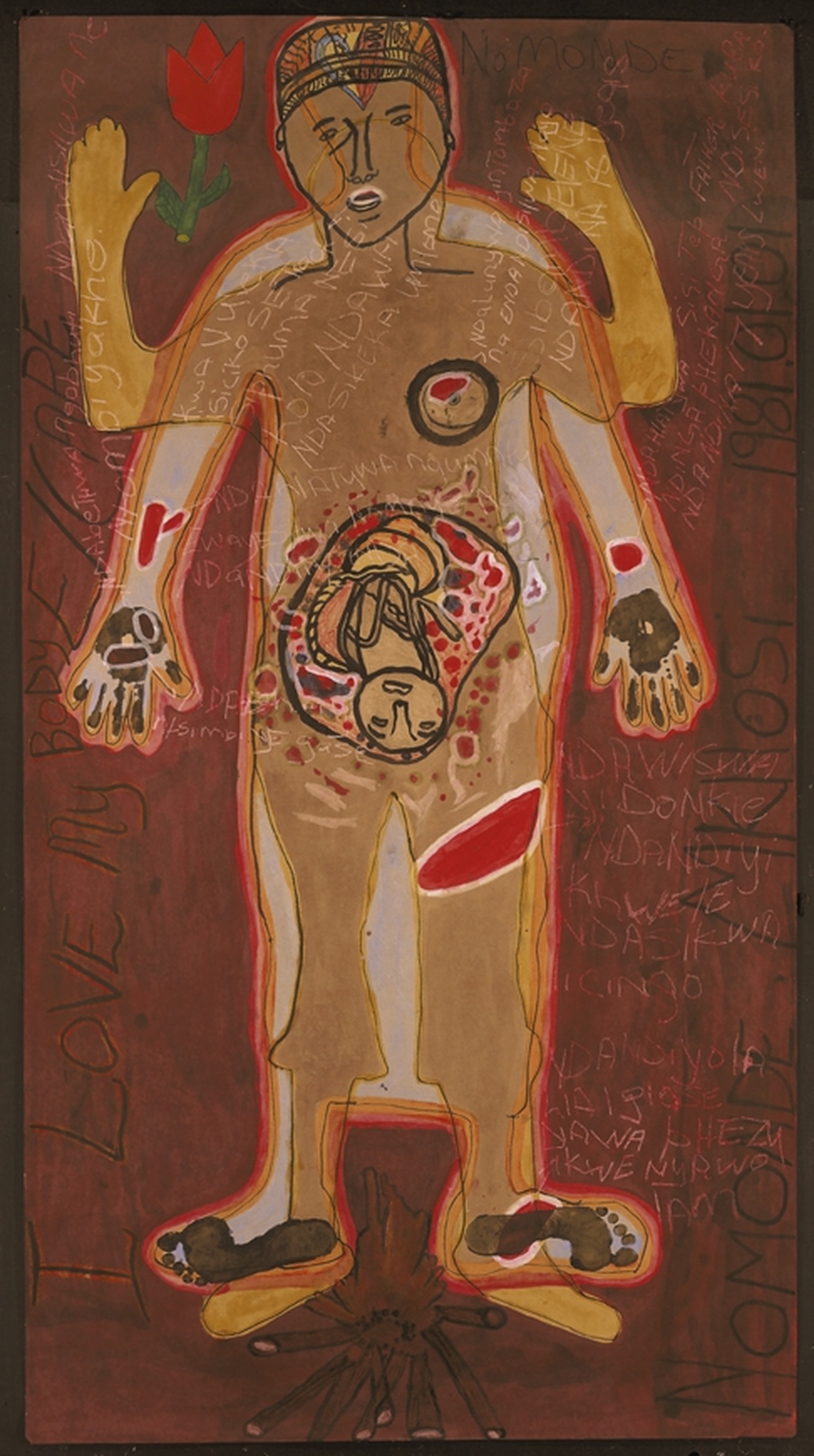 Thozama Ndevu – Body Maps, 2009
Thomaza Ndevu
Body Maps 2002
Digital print on paper
CCAC #0375

There is no more friendship between my stepfather and me. He wrote a letter to my teachers at school. It said I must leave school because he is not going to pay for my school fees because I have got a boyfriend now. I asked my boyfriend for money. He gave me money because he was working.

One day I went to my boyfriend to sleep with him and my stepfather hit me and stabbed me with a screwdriver. He stabbed me here on my left wrist you can see on my body map. One night he came to my bed and said, "Come here I want to make you strong."
My boyfriend said I could stay with him. He was working in security. There was no other place for me to go. Before a long time I had a fight with him because he had twelve girlfriends. Always changing, changing, changing. Every time I see him with another girl.

After I left him, I met the one I am married to now. I was 20. When I was pregnant I found out I am HIV positive. I knew all about HIV a long time, but I didn't think here in South Africa there would be people who have HIV. I thought people from overseas would have it.

When I left the clinic I didn't tell anyone. No one, and no one since then. No one knows. Only I know, and the counsellor, and all of you. I'm not happy. I would like to tell someone but I go to tell and then I'm afraid to. I haven't told my mother but I'm thinking about telling her. I tried to tell my husband but he said, "If you go, when you come back you mustn't tell me, because I can't sleep with someone who is positive.

I think I got the virus before my husband met me because my first boyfriend is very thin now. And my husband, he refuses to use a condom. This is very hard for me to know I am giving him the virus. So that is the reason I cannot have my photo.