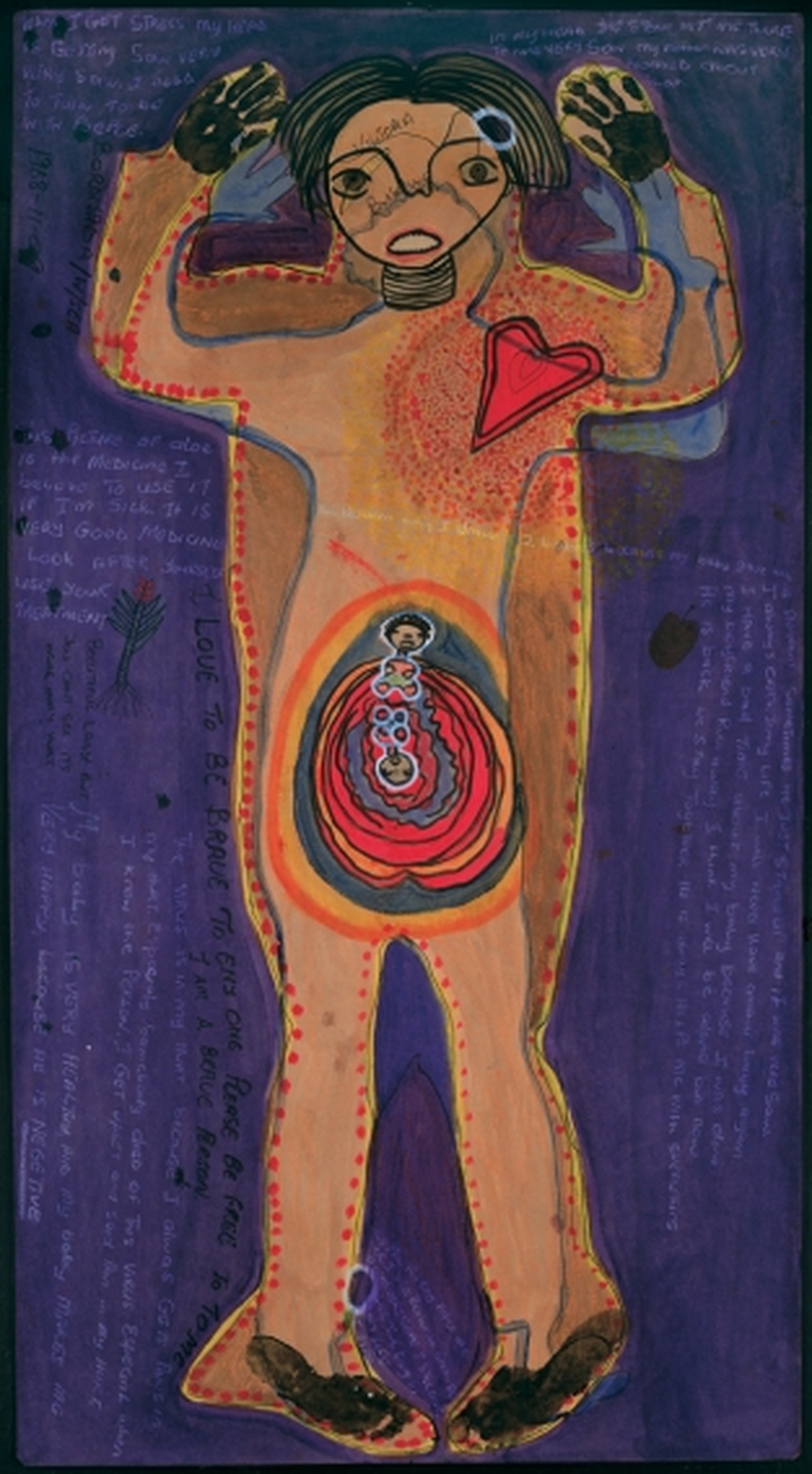 Victoria Ndyaluvana – Body Maps, 2009
Victoria Ndyaluvana
Body Maps (2009)
Digital print on paper
CCAC #0371

When I look at this picture I can see what I am and what I'm not and what I believe in and what I don't. Now see this handprint . See the one finger on my left hand is shorter? When I was 13, in my culture we cut the fingers, especially the ladies so they doesn't get lost. I can see that my finger is missing and that I have HIV but also that I'm strong. Very strong.

See that aloe. Aloe is a medicine. It is bitter but it helps a lot. It chase things out, even HIV things it can settle down. See that mark on my head. I was 13 and I was sitting on the stoep at home playing a game and there was a stone on the top of the roof and it fell on my head.

Now look at the bottom of my painting. I got this mark on my leg from the dog bite. It was my brother's dog and its name was Terreblanche because it had lots of hair on its face like a beard. Terreblanche is the man, Eugene Terreblanche, who was the leader of the AWB, the Afrikaner right wings who hate blacks and who is in prison now.

I put more virus outside my heart. When I get sad I get sore and I feel the pain all around in my heart and it go through to my stomach. I feel it like needles going down my body. I have power over this virus like when I'm working I stop thinking about it. That is why I put the symbol of mango in my brain because the mango got all those little things fine things like hairs that go in and stick out. My brain is just like a mango I think a lot about other people's problems. When I get stress, my head is getting very sore and I need to talk and be with people. The person behind me is Bulelwa. Every night she is coming to my house to watch Generations. We give each other lots of support. Thank you.