'Art & Justice' monograph series on the CCAC launched
PRESS RELEASE / 10 December 2020 / International Human Rights Day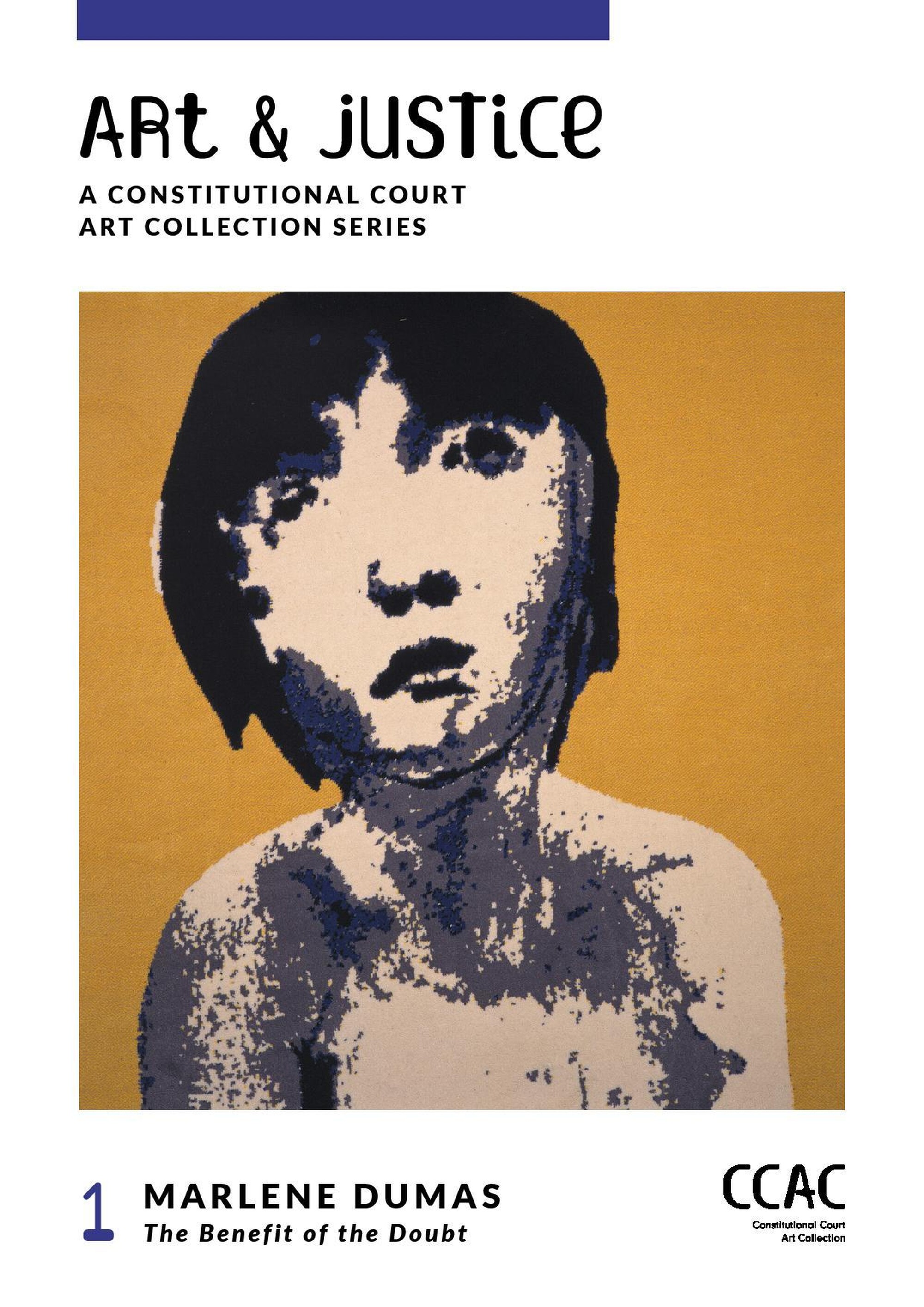 Art & Justice: A Constitutional Court Art Collection series is a short monograph series about artworks and artists represented in the Constitutional Court Art Collection (CCAC), housed within the Constitutional Court of South Africa. It draws from original interviews conducted with artists and others connected to the CCAC, internal CCAC records and other research to explore and contextualise artworks in the collection. The series also showcases the critical behind-the-scenes conservation work undertaken to document, stabilise, store and preserve CCAC artworks for posterity.
The first publication in this series focuses on The Benefit of the Doubt, a monumental tapestry triptych designed by the internationally acclaimed South African, Netherlands-based artist Marlene Dumas. It is released freely in PDF format on 10 December 2020, International Human Rights Day, with a printed version to follow early in 2021.
The Benefit of the Doubt is one of the most recognisable pieces of the CCAC, permanently installed at the entrance to the public gallery in South Africa's apex court. The publication explores how the artwork contributes to the visual representation of South Africa's legal order, adding a new dimension to the discourse about the limits of the law in society. As indicated by the artwork's title, the work symbolises the legal principle of innocence until proven guilty and speaks to the burden of proof being placed on the state in criminal law cases. The viewer is encouraged, like judges, to see the humanity of the person before them. Diverse people are depicted without any visible clothing or markers, leaving their societal status or class unknown. A society is envisioned that does not discriminate on the basis of race, gender, sexuality and the many other grounds of unfair discrimination that is now outlawed in South Africa.
Dumas' The Benefit of the Doubt received much-needed conservation treatment in 2018 and 2019. It was sent to textile conservator Louise Man-Nel in Cape Town for treatment that took months of intensive cleaning and stitching, and then reinstalled at the Constitutional Court with a bespoke conservation frame to better enable its future care.
CCAC Artworks Committee member (and former CCAC curator) Stacey Vorster said: "Dumas' unique insight into the human condition will be preserved in the Court for many generations to come, thanks to the timely conservation of The Benefit of the Doubt. The conservation of Dumas' triptych and the launch of a series of monographs on the Court's collection are as vital for us as they will be for generations of free and equal South Africans to come."
Download Art & Justice: A Constitutional Court Art Collection series (#1, Marlene Dumas: The Benefit of the Doubt) here.
The CCAC is owned, managed and cared for by the Constitutional Court Trust. For further queries or editorial photographs contact the CCAC curatorial team at ccac@concourttrust.org.za or phone +27 11 359 7577. Follow @concourt_art on Instagram and Twitter.