Second short 'Art & Justice' monograph, about the CCAC's Hlabisa baskets, now published
Date posted: 4 October 2021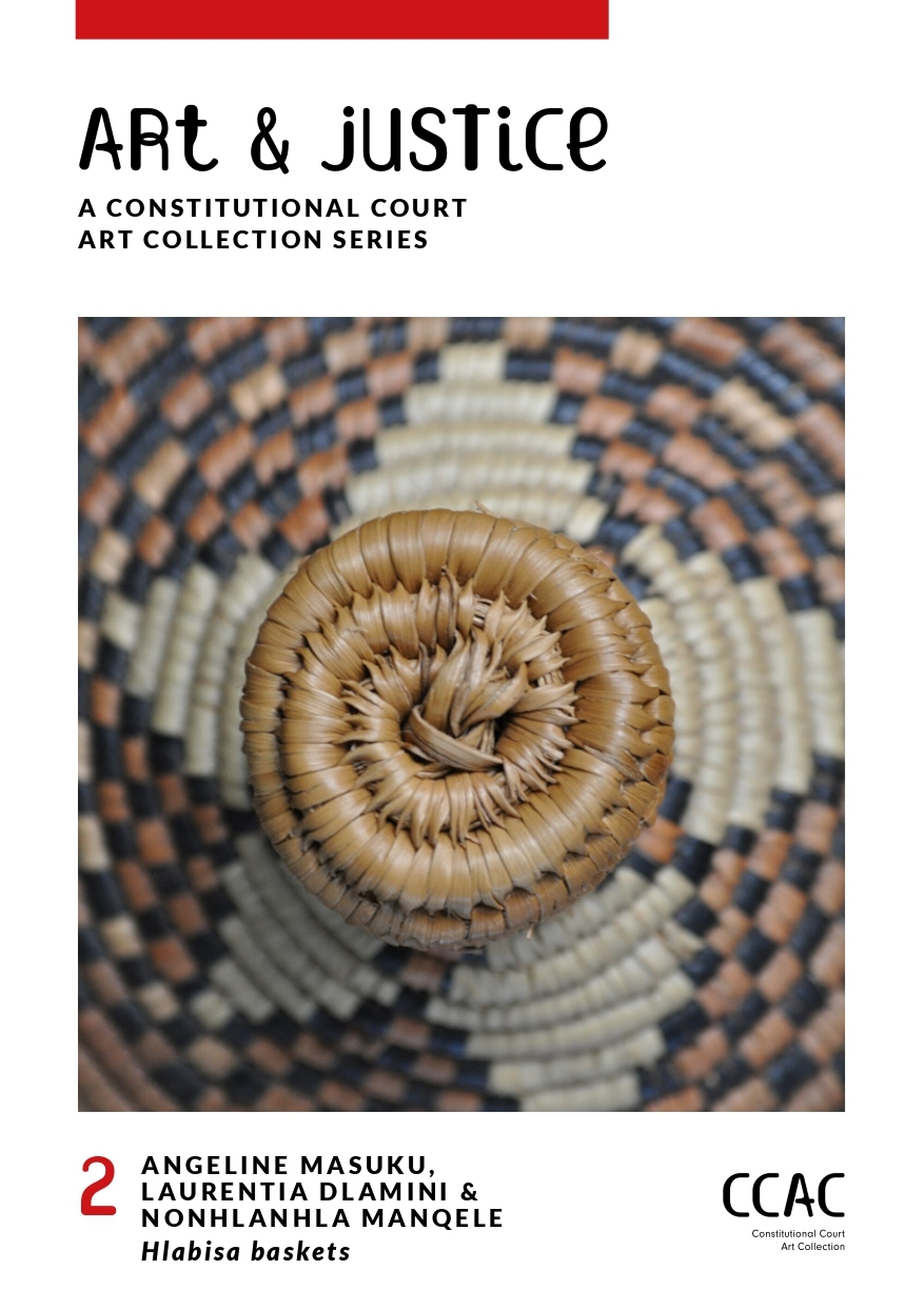 Art & Justice: A Constitutional Court Art Collection series is a short monograph series about artworks and artists represented in the Constitutional Court Art Collection (CCAC), housed within the Constitutional Court of South Africa. It draws from original interviews conducted with artists and others connected to the CCAC, internal CCAC records and other research to explore and contextualise artworks in the collection. The series also showcases the critical behind-the-scenes conservation work undertaken to document, stabilise, store and preserve CCAC artworks for posterity.
The second publication in this series focuses on the six traditional Zulu handwoven baskets, called amaquthu in Zulu, in the CCAC, woven by Angeline Masuku, Nonhlanhla Manqele and Laurentia Dlamini, from the Hlabisa district of rural KwaZulu-Natal. The publication follows the CCAC curatorial team's visit to Hlabisa in 2020 to learn about the practice of basket weaving from these artists and to document the baskets' conservation. A short documentary on the restoration of these baskets, Weaving Baskets from Stars, was also produced and is being shown in the public gallery of the Constitutional Court alongside the baskets until April 2021.

The baskets were bought by the Architectural Artworks Committee in 2003. Concerning the baskets' purchase, Janina Masojada, one of the architects of the Constitutional Court building, said: "We wanted to design a place in which all people would feel welcome, where South Africans from urban and rural areas, the young and old, could gather without inhibition and have a connection, a sense of belonging and identity." She added that "[t]hese baskets were outstanding examples of the traditional craft of basket weaving from the Hlabisa area of northern KwaZulu-Natal. It is a craft form that has endured political change and continues to the present day."
The monograph positions these Hlabisa baskets as carriers of South African heritage, through an exploration of the history and progression of Hlabisa basketry; questions of art, craft and authenticity; empowerment and innovation through the skill of weaving; baskets' recognition and significance; the making and restoring of basketry; and its conservation and display.

The monograph was released freely in PDF format on 30 September 2021 in celebration of Heritage Month, with a printed version to follow later in 2021.
Our first short monograph, about Marlene Dumas' The Benefit of the Doubt, published in 2020, is also available online.

Download Art & Justice #2, Angeline Masuku, Laurentia Dlamini & Nonhlanhla Manqele: Hlabisa baskets here.