Announcing our inaugural student competition winners
Date posted: 29 September 2023
The Constitutional Court Trust (CCT), custodian of the Constitutional Court Art Collection (CCAC), is pleased to announce the winners of its inaugural CCAC student competition. As a pilot programme, we hosted senior printmaking and photography students from Market Photo Workshop, Artist Proof Studios, Tshwane University of Technology, University of Johannesburg, University of Pretoria, Vaal University of Technology and the University of the Witwatersrand to partake in a closed competition to create artworks that convey the sense of place of the Constitutional Court of South Africa.
The CCT is developing a travelling exhibition of the CCAC to mark 30 years of democracy in South Africa in 2024. As part of this project, the CCT is looking for new original photographs and print artworks that are inspired by and reflective of the Constitutional Court building, both the exterior and public areas of the interior, its immediate environment and those integrated artworks that form part of the fabric of the court building.
The visual arts students from the Gauteng-based institutions above were invited to document the court environment creatively through photography and printmaking, so as to communicate the sense of the architecture and design of the Constitutional Court for when the CCAC is exhibited elsewhere. As an competition entry requirement, the students attended a tour and briefing at the Constitutional Court on 29 May 2023 in order to familiarise themselves with the court environment. The competition also serves to promote youth engagement with, and representation in, the CCAC.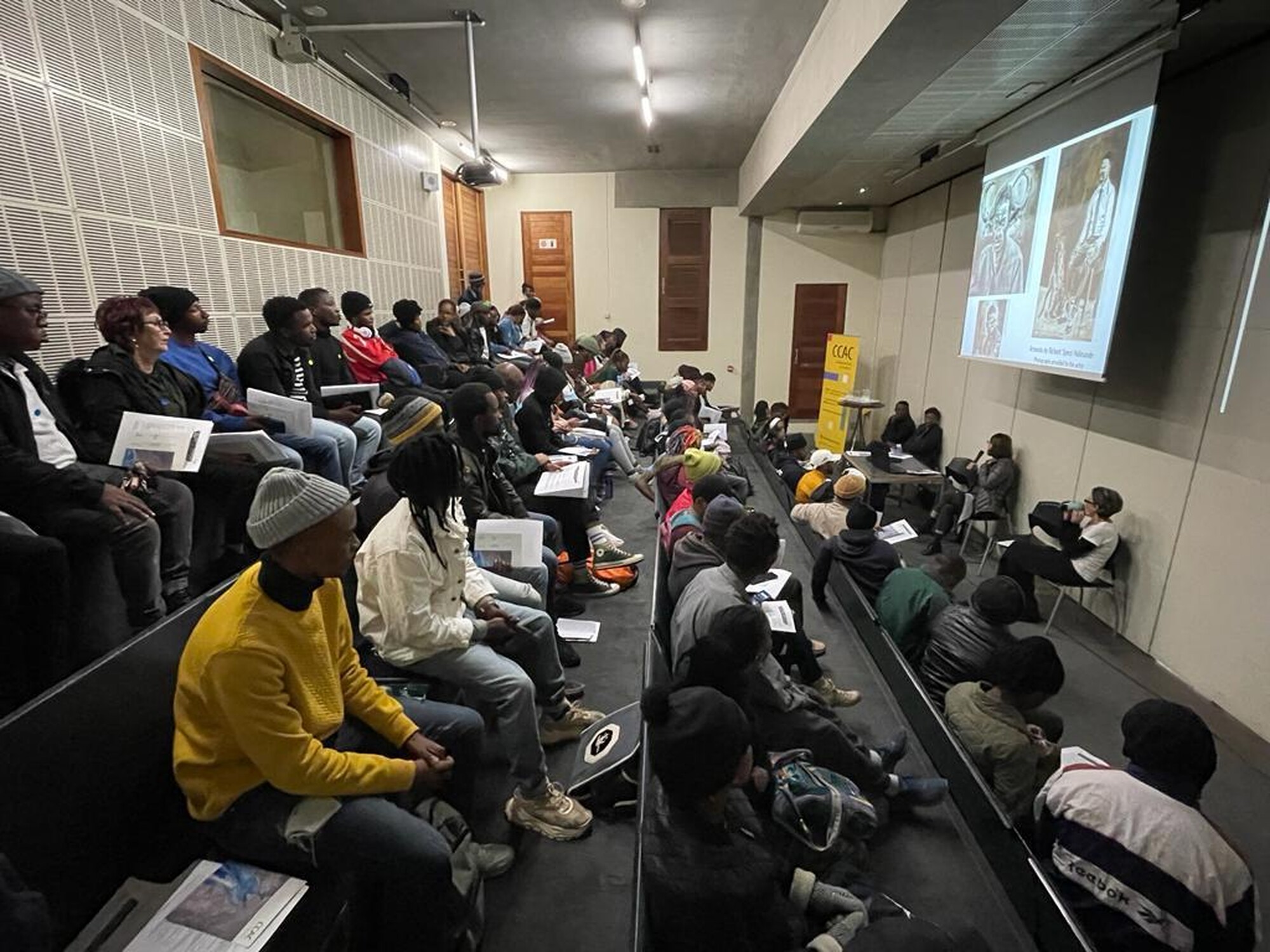 From all entries received, the CCAC curatorial team compiled a shortlist of artworks for the consideration of the CCAC Artworks Committee, based on the criteria of the competition as well as the policy framework for considering new artworks. The CCAC Artworks Committee selected 5 works by 4 artists from the shortlist to be accepted into the CCAC.

Each winning artwork will be produced in a limited edition run of up to 10 signed and numbered editions. Two of these will be included in the CCAC, another edition will go to the Higher Education Institute where the winning artist currently studies and two more editions will go to the Foundation for Society, Law and Art in South Africa for a fund-raising auction to benefit the CCAC endowment fund. R5,000 will be provided to each winning artist to cover the cost of the production of these 5 editions. The remaining five editions can be produced by the artist to be sold independently.


The winners and their selected artworks
Congratulations to the following selected artists:
Bheki Sibiya, Artist Proof Studios
Kamogelo Sebopa, University of the Witwatersrand
Obakeng Masilo, Artist Proof Studios
Rametsi Gilbert Maepa, Vaal University of Technology
The CCAC curatorial team thanks all the students and the higher education institutions for their participation in this pilot project. We are reflecting on the process with a view on presenting competitions in the future, in order to further our youth upliftment work through engagement with universities and other educational organisations.