INVITATION: Body Maps special tour at the Constitutional Court about HIV/AIDS
Date posted: 20 November 2023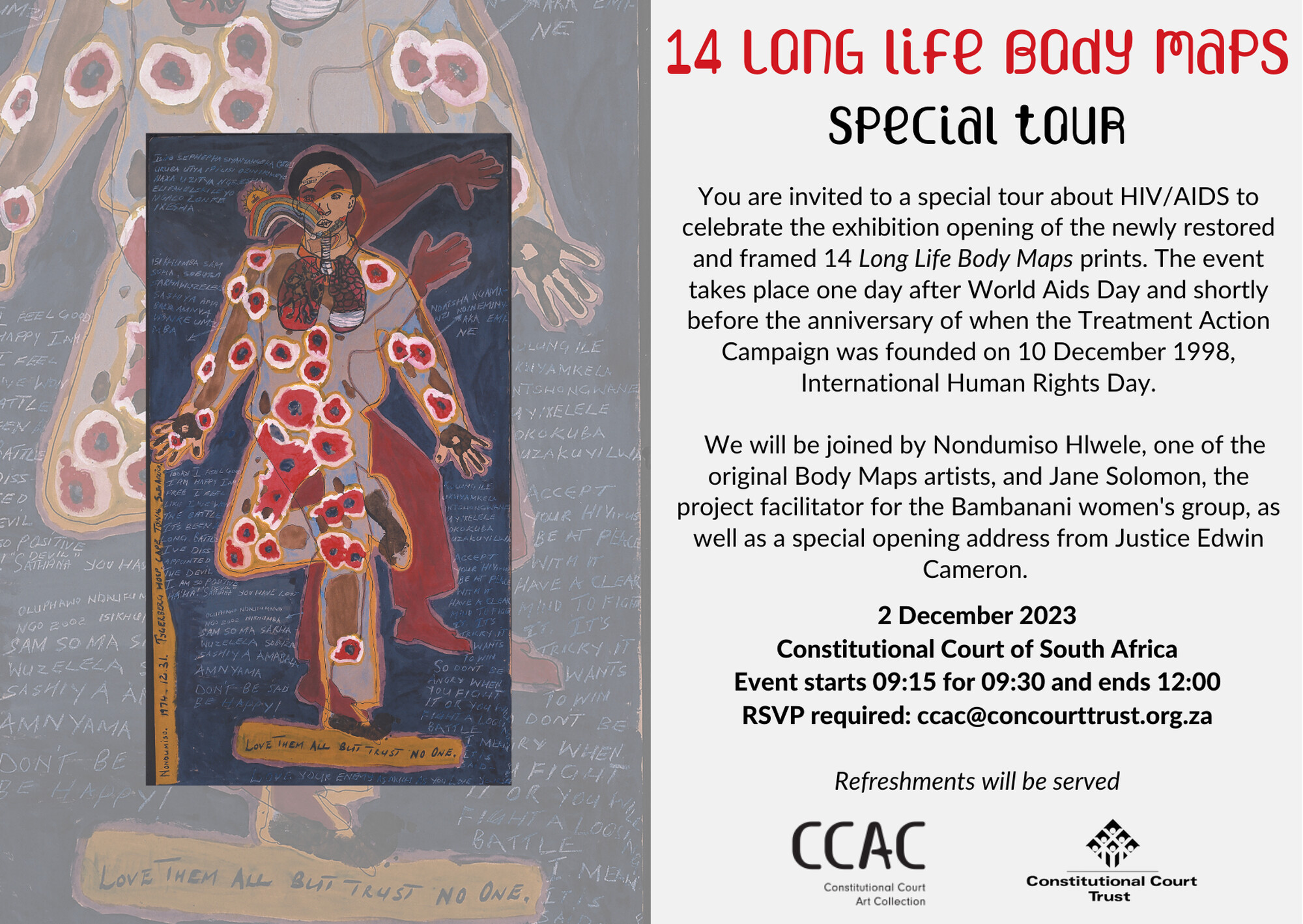 We will be hosting a special tour to show 14 newly restored and framed Long Life Body Maps artworks by the Bambanani women's group along with other artworks in the CCAC that speak to HIV/AIDS. The first edition of the print set was bought by the CCAC Artworks Committee in 2004. The prints underwent restoration treatment and framing in 2023, while some had to be reprinted and signed again by the artists, as part of a conservation and research project funded by the Mercury Phoenix Trust.
The Bambanani Women's Group is a collective founded in 2002 in Cape Town, South Africa. The support group, consisting of thirteen women and one man living with HIV/AIDS, recorded their life stories as they were participating in a Médecins Sans Frontières (MSF) pilot HIV/AIDS antiretroviral programme. To create the Body Maps, participants were assisted to trace a life-sized outline of their bodies and adorned them with colourful symbols and emotive text as a means of visualising the virus and telling their personal histories. The Body Maps succeeded in advancing the dialogue about South Africa's HIV/AIDS epidemic towards achieving equal treatment access.

We will have a special opening address from Justice Edwin Cameron and we'll also be joined by one of the original Body Maps artists, Nondumiso Hlwele, and the project facilitator Jane Solomon, who will speak about their experiences of making the Body Maps as part of the tour.

Please join us at the Constitutional Court on the 2nd of December, at 09:15 for 09:30 to 12:00, for this special tour. Snacks and refreshments will be served. Please RSVP to ccac@concourttrust.org.za.