| | |
| --- | --- |
| CCAC #: | 0461t |
| Artwork title: | Peace of Mind |
| Artist(s): | Philip Willem Badenhorst |
| Year made: | 2004 |
| Artwork type: | Sculpture or object |
| Medium: | Sandblasted onto window panels |
| Dimensions (mm): | 841 x 594 |
| Artwork series: | Images of Human Rights – African Steps window application |
| Source: | Installation commissioned by the Architectural Artworks Committee, with permission of the Human Rights Trust |
| Year acquired: | 2004 |
| Installation type: | Integrated artwork |
| Location area: | On public display |
| Signage: | The Images of Human Rights portfolio, consisting of 29 fine art prints by 27 South African artists from the country's nine provinces, depicts artistic impressions of each of the 27 fundamental Bill of Rights listed in the Constitution, including a front and back cover. The images are diverse in their creative approaches. As is done by the Constitutional Court's wooden entrance doors, these images make it known what rights are to be upheld and advanced, and enforced by the Court. The window application of the portfolio is placed in between the Sunscreens, which represent the people's hope for a new democracy and demonstrates how their lives intersect with the law. A set of the print portfolio is also contained in the CCAC. Volunteers drawn from human rights and art related organisations such as Amnesty International South Africa, the Black Sash, the Durban Art Gallery and the Lawyers for Human Rights worked together to produce the portfolio and market it both nationally and internationally. The intent behind the publishing of the portfolio in 1996 was to raise awareness of South Africa's artistic talent while endorsing the positive values of human rights education, shortly after the Constitution came into effect. |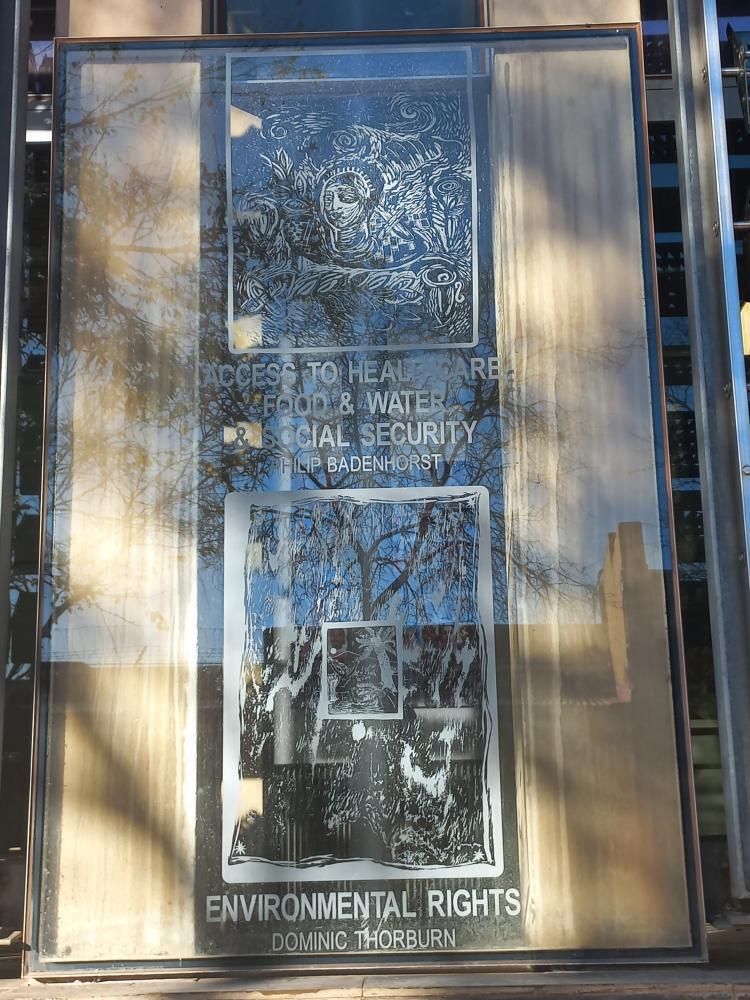 Does this listing contain information that you think we should improve or change? We would like to hear from you.
NOTE: The process of photographing artworks in the CCAC is underway - we are currently working to improve image quality and display on the CMS but have included internal reference photos for identification purposes in the interim.